Wedding Photography Price (2018)
How Much Does a Wedding Photographer Cost in Ireland?


Wedding Photography Price (2018)
Wedding planning isn't easy!
There are so many things to do leading up to the big day and, of course, there are a lot of cost considerations. As a wedding photographer in Dublin, the first thing that everyone asks me is: how much does a wedding photographer cost in Ireland? The second question is always:
Why is wedding photography so expensive?!
While I'd love to just be able to go around to nuptials and take pics for fun, the truth is that wedding photography is just plain pricey for several different reasons.

Brides often regret not spending more on Wedding Photography, so let's start by talking about some hard numbers.

While package options vary considerably and you will find a wide range of skills amongst the Irish wedding photographers out there, the average price of wedding photography usually ranges from €1,400 to €3,800. Professional wedding photographers and amateur shooters will charge different rates, depending on their level of experience. You can check out the chart below to get a sense of how much the rates vary amongst different wedding photographers at different skill levels. Beginners might only charge €500, while top destination can cost well over €9,000 to get started.

Is Professional Wedding Photography Worth It?
While you may be in sticker stock at the moment, it is important to think about why wedding photography is worth the price. You might have some friends or family members who went the DIY route with amateur photographers but, trust me, you are taking a big risk there. While Cousin Connor may have taken some lovely photos of your birthday party, do you really want to trust him with your wedding photography? These are photos that you will want to love forever and it really is critical to opt for the best photographer that you can afford.


I have talked to so many brides in Dublin who regret not investing more in their wedding photography. They are actually part of a major trend. After the honeymoon is over, many couples end up wishing that they had spent more on their wedding photographer so that they could have a better wedding photo album. After all, these are pictures that couples cherish for a lifetime.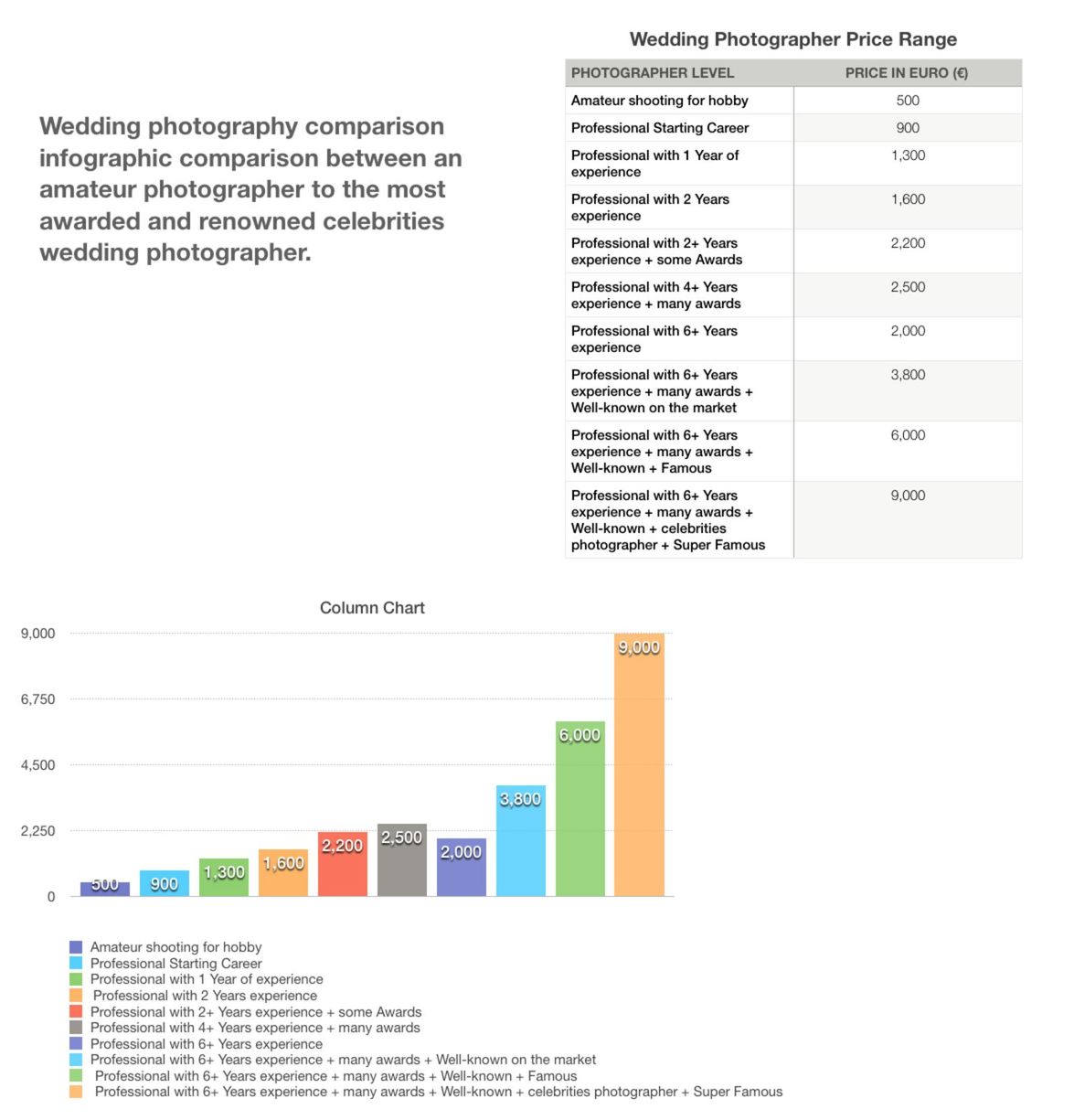 Why Is Wedding Photography So Expensive?
How much does a wedding photographer cost in Ireland?
As much as we can get away with charging you! I'm joking, but this is a very common misperception. People think that all things wedding related, especially wedding photography, is overpriced because happy couples are in the mood to splurge. Many people have the perception that we wedding photographers just show up for the day and walk out with a cool €2k, but that couldn't be further from the truth! There are many reasons why wedding photography is so expensive.
First of all, before you ask yourself how much does a wedding photographer cost in Ireland?" you might want to ask yourself how much wedding photography gear costs! If you have never shopped cameras and accessories, it might surprise you to learn that it's not unusual for wedding photographers to show up to the big day with €20,000 worth of gear. And that gear doesn't last forever! Camera technology quickly becomes outdated while needing regular care and replacement, which is a major factor in why wedding photography is so expensive.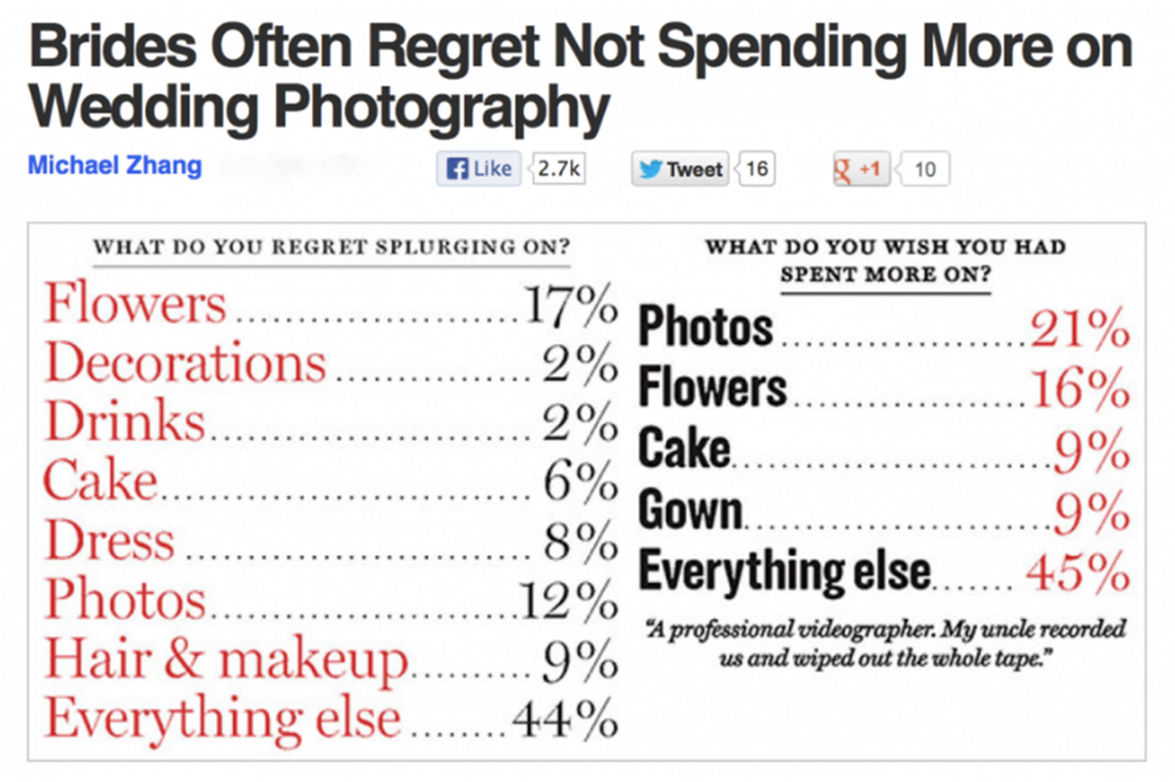 As a wedding photographer in Dublin
, office space is another significant issue. We need the space to store our gear and do all of the "behind the scenes" work like editing and developing photos. If you have shopped rentals in Dublin, you know that space comes at a major premium here so the prices of wedding photographers in Dublin will reflect this as well.
Another question to ask is: how much does a wedding photographer with an assistant cost? This is another central aspect because even the greatest wedding photographer can't be everywhere at once. Bringing in an assistant captures a second point of view and can give you some priceless shots but, of course, it's another cost to consider.


Finding a Cheap Wedding Photographer in Ireland
There is no escaping the budget factor. While we would all love to just opt for the best of everything from our weddings, there is a certain price ceiling that we have all got to work with. That said, I would highly encourage you to consider factors other than just price. Don't just choose the very cheapest wedding photographer in Ireland! Go with a wedding photographer who has a style that you love and personality that you connect with. If you need to adjust the number for shoots that you do, how long the photographer stays at the wedding, or how extensive your package is, these are smart ways to lower the price of a wedding photographer without sacrificing quality.


When you are looking through your Irish wedding photographer options, keep in mind that there is more to the process than what you see. High quality wedding photographers are editing experts. Low cost wedding photographers, on the other had, often do no editing whatsoever. So, what they see is what you get.


The Work You Don't See
This bring us to the topic of invisible work. Photo editing is such an important topic in the world of wedding photography. It can make a profound difference in the quality of the photos! So, remember, when you are asking "how much does a wedding photographer cost in Ireland?" you should follow up that question by asking: what are you going to do for me for that price?


It is essential to look through a range of wedding photographs online to discover which styles you like. While you are browsing, keep in mind that very rarely does that perfect photo op just present itself. The most
breathtakingly beautiful wedding photographs of Irish weddings
are the result of hard work! You need a wedding photographer with just the right eye who can create the perfect conditions. But, remember, even the best wedding photographer can't make the sun come out! You need a photographer who can edit photos after the big day to create the ideal lighting, saturation, and other adjustments that will make your wedding photos look flawless.


Keep in mind:
Typically, when you sign a contract with a wedding photographer, you give that person all of the rights to the photos. This means that they can use your shots for online promos. While most couples are happy to share their big day on a wedding photography website, it is still good to know ahead of time.
One issue that is even more important is the matter of getting digital proofs. In most cases, a photographer will only give you a watermarked image. If you want images that are not watermarked, it is essential to make an agreement ahead of time with your photographer. Here at Wedding photography in Ireland we provide watermark free images as standard.
Get the Post-Wedding Details

As a wedding photographer in Dublin, I spend a lot of time doing post-nuptial work. While you are away on your honeymoon, I'm in the studio doing post-wedding touch-up work and editing to make sure that your photos are flawless. And we aren't taking about Photoshop fixes that will make your skin brighter or your legs longer! To give you the perfect shots, we wedding photographers spend a great deal of time perfecting the colour, contrast, saturations and balance of your photos to create just the right look.

From Photographer to Photographer!
I've created a 6 steps to explain and help my coachees of how to define the value of wedding photographer's work, and I'm sure this will help all couples to understand our effort on time, knowlege and investments we have to make ;)

Deciding how much you will charge is certainly one of the great challenges for a photographer. After all, if you do not stop to think about it and "throwing" a value you deem appropriate, you are running a serious risk of being too cheap (and, damaging) or overpriced (certainly "shocking" many customers ).

Of course, there are many peculiarities. A novice and inexperienced professional should certainly charge less than an already renowned professional in the market, for example. But there is a logic that can be applied in both cases, that is, a cost estimate that will give the minimum price base.

Thinking about it, below you can check the main steps to set a fair price for your work:
1) Working day

Think of a daily value of work: what you think is appropriate to receive for a day of your effort. Include a daily value using the computer as well, because it is impossible to work without it today: you download the files, make the necessary adjustments, making slidshows, etc., and then deliver the result. All this is work, not fun ;)

2) Number of jobs per month
Think about how many jobs you do or want to do within a month. Four, for example, is an acceptable number in many areas of photography (except in the journalistic area).


3) Depreciation of equipment
Along with the work rate, include a percentage of the depreciation of the equipment you use to work (photographic and computer). An acceptable percentage is 1% of everything, such as camera, lenses, accessories, software etc. And it should be added to all your works.
So, for example, if the total equipment is €20,000.00, you should add €200.00 depreciation in each of your budgets.


4) Profit Margin
One must think of a profit margin, for example, 30% of the daily value.


5) Fixed costs
Calculate as nearly as possible your fixed costs, such as rent, telephone, taxes, accountant ... Add all and divide by four (or your average number of jobs). The result should be added to every budget, with the logic that your work should pay your bills.
6. Variable costs
Also take into account the variable / specific costs of each job, such as fuel, parking, food, etc. Typically, this point will vary on each budget.
Adding everything, finally, it is possible to arrive at a minimum price: daily + profit + depreciation + fixed costs + variable costs.



To exemplify:

€600 + €180 (30% profit) + €100 (1% depreciation) + €250 (based on a cost of €600 and equipment volume around €10,000) would be calculated. life of €1,000 a month, adding light, water, telephone, accounting, etc., and divided by 4) + €100 (variable costs, thinking, for example, of buying batteries, a lunch and parking value). The total would be €1,230 and this would then be the minimum amount you should charge for work.



Of course, this is just an example, using illusory values. And, once again, it is worth emphasising that the daily value will vary greatly from professional to professional, as well as the volume of equipment. But this is a basic calculation for you to think about the price of your work without having losses.



After all, "kicking" any amount or charging "what a colleague charges" (even knowing that each professional has its own particularities, costs, ways of working etc.) may be disrupting your business and not allowing you to stand out in the market that selected.


If you are planning a wedding in Ireland or even abroad, get in touch for more information today. We are currently taking bookings for 2018 - 2019.
- BOOK YOUR WEDDING PHOTOGRAPHER TODAY -

If you arrived in the end of this post you are probably wondering how much I charge for my wedding coverage. I'm super excited to get to know you better and to share my pricing and packeges with you, simply click on the button below and fill up a quick form than I will get back to you as soon as I can, ok. Have a beautiful day!
- I AM INTRESTED ON BOOKING YOU FOR MY WEDDING -