Top 10 Engagement photo locations in Dublin (2018)
Engagement Photo Shoot in Dublin
The way we see it, every love story deserves a special proposal - a private moment in time that will be cherished forever! Having an
Engagement Photo Shoot in Dublin
and Pulling off a perfect proposal can prove to be daunting, so we have put together a list of
locations in Dublin
where you can 'get down on one knee' in style, without breaking into a nervous sweat! Since you will be going through a lot of careful planning to pull this off perfectly, you will want to remember every detail. It would probably be best to have a Wedding Photographer from Dublin who knows the city's best places to propose join you and create a
beautiful photographic memoir
of this special event where you invite the love of your life to join hands and hearts with you forever. One this post you will find not only the best photo locations but also one of the
best engagement photographers in Dublin Ireland
!
The first thing you will need to decide on is location and Dublin has many naturally beautiful and romantic locations that are perfect for proposing to the love of your life. With so many different choices, there is really something that will be just right to make your proposal perfect for the two of you!
Whether you are looking for a beautiful castle
, a church, or a setting in nature, we have some great suggestions for you. In our opinion Dublin offers the best of both worlds when it comes to proposal locations. With access to some of the most spectacular natural settings found in the nearby coastal villages, you will have many beautiful locations to select from to 'get down on one knee' and propose. It won't be long before you are back in the city to
celebrate your engagement with family
and friends at
your favourite venue!
Fortunately,
Engagement Photography in Dublin
is spectacular as there are so many picturesque venues for a great
photo shoot in Dublin.
We have come up with a list of the top 10 Engagement locations in Dublin to make this exciting time less stressful, more memorable and more fun!


Ps: All images featured on this post were captured by Bruno Rosa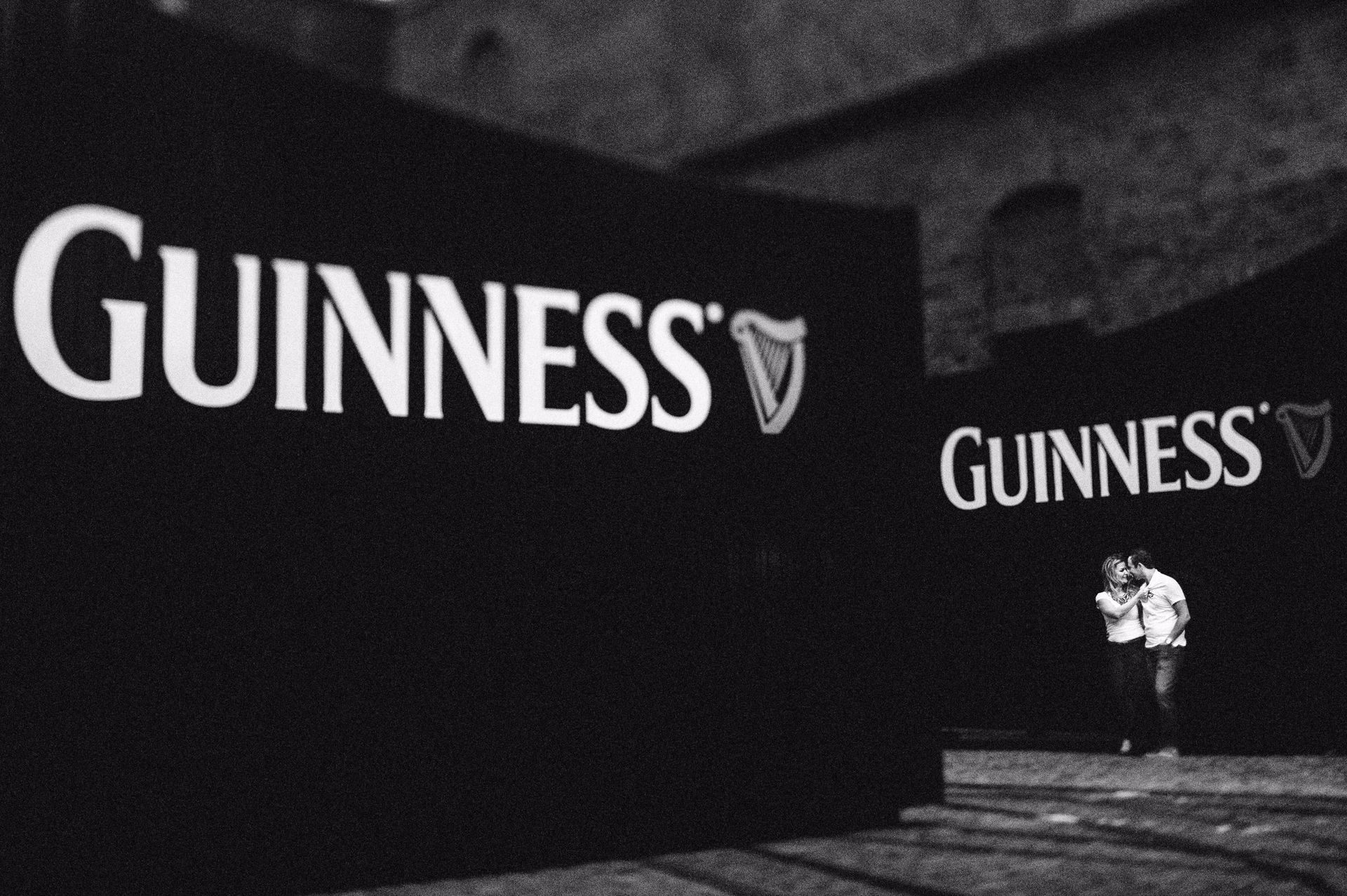 Bruno Rosa is one of the Best Photographers for your Proposal in Dublin!

1) For the true Romantics - The White Friar Street Church
Valentine's Day has long been a favourite day for a marriage proposal for reasons that are quite obvious. This day is all about Love! Many budding romantics have gone to great lengths to profess their love and "pop the question" in the most special way they can. If that date just won't work for you or you can't wait until Valentine's Day to propose, not to worry! You can make every day as special, especially if you propose in Ireland. Ireland is one of the most romantic and enchanting places in the world with many breath-taking, timeless natural locations to pick from. The White Friar Street Church in Dublin which is known for its stained glass windows, tall ceilings and amazing arches, houses St. Valentine's original relics, which were brought from Rome in 1835. This is a working Church with services and you can even have your Engagement Rings blessed here!

2) Proposal spots for Nature Lovers: Wicklow

Ireland really is a nature lover's haven that offers so many magical locations to profess your love. If you are willing to expand your horizons and travel a little bit, you will have a wide choice of romantic spots for you both to enjoy. It is always great to spend quality time together in the great outdoors. With beautiful views of Dublin city and the bay, and panoramic views of the stunning Mourne Mountains to the north, and lush green Wicklow Mountains to the south, you will have no trouble finding the perfect setting for a memorable proposal. Here are a few suggestions:

Glendalough

If your other half is a fan of romantic films, you can make your way to Wicklow where the adaptation of the Cecelia Ahern novel, 'PS I love you' movie was filmed. The scenery is awe inspiring and the Wicklow Mountains provide a charming setting for a proposal. After all, Glendalough, or 'the valley of two lakes' was once home to St. Kevin. If you plan to go on a weekday you can avoid the crowds and propose in the shadow of the round tower.


The Guinness Lake

If you would you like to propose surrounded by the beautiful Wicklow Mountains, you might consider one of the most photographed places in Ireland, Lough Tay, or The Guinness Lake. This small scenic lake oddly resembles a pint Guinness thanks to the Guinness family's creative idea to import while sand to give it this distinctive look. You will surely be inspired to celebrate over a well-deserved dinner and a pint.

Powerscourt Estate

Powerscourt Estate in County Wicklow is only a short distance from Dublin but feels like a world of its own. This elegant country house which is now a tourist attraction was originally a 13th-century Castle. It is surrounded by almost 50 acres of landscaped gardens that are so beautiful that the National Geographic voted them 3rd out of the World's Top 10 Gardens. You will have ample picture perfect spots for a proposal on the grounds. The country's highest waterfall, Powerscourt Waterfall, or one of the bridges in the Japanese gardens is enchanted places for a proposal and photo shoot.

Malahide Castles and Gardens

If you have always dreamed of a fairy tale proposal, Malahide Castle is a perfect proposal venue for you! Dating back to the 12th Century, the beautiful 22 acre gardens have thousands of different plants from all over the world. There are also 4 acres that make up the Secret Walled Garden and you can be certain that you will find a very romantic place to propose here. What better place to propose, than on the grounds of a beautiful Irish Castle?

If you cross over the Liffey and head south you will come to what is one which is probably one of the most romantic locations in Dublin:

3) Dun Laoighaire Pier

With its striking views Dun Laoghaire Pier is a favourite spot for joggers, walkers and for anyone who wants to take stroll, rain or shine! The popular east pier offers great views from the Dublin Marinas across the bay with views of the yachts, powerboats, sailboats. If you prefer a quieter walk the west pier offers visitors a slightly longer walk and with a lighthouse at the end of the journey. Any of these spots can be a perfect location to 'drop down on one knee' and propose. The Victorian shelter and bandstand on the pier is often used for performances by local artists on holidays and festivals. Check to see when it is free and you can use this gorgeous shelter as a supremely romantic location for a wedding proposal. In the evening, especially when it is lit up for Christmas, it becomes even more enchanting. With a few candles to set the stage, you will be ready to 'pop the question'. With some of the best engagement photography available in Ireland, you will really want to capture the moment you spent so long planning. Click here to have a look at some of our best Engagement Photos in Dublin.

With no shortage of excellent restaurants and bars and stunning views by the pier, this is also a great place to invite your friends and family to enjoy some evening celebrations at the harbour by night.



4) Dalkey

Located just south of Dublin city, this affluent suburb is home to celebrities and writers like Enya, Van Morrison and Jane Emily Herbert. It used to be a Viking settlement before it became an active port in the Middle Ages and today it is a favourite tourist spot. Coliemore Harbour offers great views across the bay and if you would like to make this an adventurous proposal you can set the mood by going kayaking, fishing or taking a ride on an Island ferries. A short boat ride will take you to Dalkey Island, where you can propose to your sweetheart at Martello Tower, among church ruins, among roaming goats and rabbits.





5) Dublin town

Coloured Doors and Grafton Street

The colourful doors around Grafton Street painted by the residents of Georgian Dublin to differentiate their homes from others, and the colourful umbrellas off St. Anne Street would make unique backdrops for Dublin city proposal. Make sure to have a photo shoot here – your proposal photograph would make memorable Dublin poster!


St, Stephens Green or St. Stephen's Green Park

If you prefer an iconic location for a proposal, this historical park at the top of Grafton Street would be an ideal location. A stroll along the beautiful garden walkways is a great way to let your special someone know how much you admire them as you enjoy the plants, birds and sculptural monuments of Irish history. Whether you propose in a bandstand or on a simple park bench, you can be sure that there will be a very special reason to remember this famous little park.

Guinness Storehouse, Gravity Bar

This is a truly Irish proposal. While this may not seem like a romantic location at first, it can be quite romantic if you propose at sunset on the top floor of this historic building while you take in stunning panoramic views of the Dublin skyline. You can share a pint of Guinness and an intimate evening together or an unforgettable engagement party afterwards to celebrate.



6) Howth

This is truly the perfect place for a proposal for literature lovers. The protagonist in James Joyce's novel Ulysses, proposed to his future-wife Molly here. This beautiful, gorse-covered hilly peninsula with a steep cliff walk offers beautiful views across Dublin Bay and on clear days the Wicklow and Mourne Mountains of County Down. Take a walk on the Cliff Path Loop together before you ask your special someone to walk down the aisle with you.


7) Saint Anne's Park

If you are planning a summer proposal, then the rose gardens and woodlands of Saint Anne's park would make a great choice especially from June to September. The Nanekin River flows through the park from Howth Road all the way to the ornamental pond before extending out to the sea. The parkland area is used by the public so there are pitches, tennis courts and a golf course. This is a great place to share in some sporty fun and have a picnic together before taking a walk along the Nanekin River which flows through the park from the Howth Road to the ornamental pond, before it goes out to the sea.


8) Christchurch

Founded by the first Bishop of Dublin, the Christ Church Cathedral is Dublin's oldest building and is also the spiritual heart of the city. This is a perfect place for a winter proposal and even wedding for those of you whose romantic style is more on the gothic side. If you propose here, it will also set the stage for a perfect wedding in the Crypts of Christchurch Cathedral. What a unique experience for all your guests with all the beautiful candles and rich décor in wintery colours like plum, green and red. The Church is available throughout the year, and with amazing Wedding Photography in Dublin, you can have unforgettable photographs of a crypt proposal and wedding anytime of the year, rain or shine!


9) Bull Island

If you are wildlife and bird lovers, Bull Island is a great option for you. This low lying sand spit is found off the coast on the north coast of the city between Dublin and Howth. It is adjacent to private golf courses St. Anne's and The Royal Dublin. This is a unique place to propose. A couple of things to keep in mind; there is no drive on access to the beach and there is a risk of getting stuck in the salt marshes!


10) Phoenix Park

This is a wonderful place to propose. As the largest park in Ireland you will have many private romantic spots to propose without an audience. If you are animal lovers, you are in luck as the Park is also home to the Dublin Zoo, the fourth oldest zoo in Europe! Whether you want to be surrounded by zoo animals or beautiful fauna and flora, you will have plenty of choice. You can even bring your bikes and go for a ride or bring a picnic basket for a romantic lunch together. For an interesting place to propose, you can head over to the Wellington Monument, Europe's largest obelisk, which is an astounding 203 feet tall!

So with all these wonderful choices and something for everyone, proposing will be much easier. All you have to think about now with all these inspiring venue choices is which one is the best fit for both of you. With a little creative planning you will be on one knee in no time asking a very important question that will change both your lives forever. We recommend having a photo shoot planned around the event so you can relive this magical moment through pictures. Luckily, you will have plenty of amazing wedding venue choices and with great Wedding Photography in Ireland; capturing memorable images of your wedding will be easy.

Preparing for your proposal will indeed help you get ready to plan your big day. So, get out there and take the first step. You can only get a "Yes," if you ask. And this is one of the most important questions you will ever ask. Someone is waiting to take your hand, and take the plunge and you have plenty of places to make it happen now! Congratulate yourself for making this a very special moment for you and your "other half"- one you will both cherish forever!